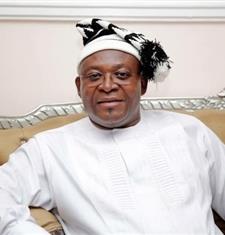 COSMOS NDUKWE
BA, MA, PhD; fcim, fica
COSMOS NDUKWE
Dr. Cosmos Ndukwe is from Akanu Item, Bende LGA of Abia State. A journalist, public administrator and consummate charity worker; Cosmos has distinguished himself as a grand defender of justice.

He cut his academic teeth at Aba from where he moved to acquire a Bachelor of Arts (BA) degree in Mass Communications, Master of Arts (MA) degree and Doctor of Philosophy (Ph.D) in Broadcasting from Abia State University Uturu.
Fellow of Certified Institute of Management and Institute of Corporate Administration, he has won a number of awards among which are the Lead Times Africa Magazine Winner of Integrity, Accountability & Transparency in Leadership (2008), Prestige Africa's Best Environmental Friendly Nigerian (2009); Methodist Church Nigeria's Father of Faith (2010) and Catholic Church's Friend of the Needy.
Cosmos has vast experience in public service spanning across environment, transport and education. He is the Founding President of CONK Productions LTD, Rainbow Press LTD, Luxury City Hotels and Towers; Sugarland Entertainment Ministry, Icon's Lounge, CONK Electronics and Luxury Farms. He is the President/Founder of Cosmos Ndukwe Foundation, a charity organization he established to ensure that smile ceases to be a luxury for distressed Nigerian.
Born in Aba in 1963, Dr. Ndukwe is married to Ndidi, a Local Government Administrator. They are blessed with four children – Shalom, Winner; Danny and Amazing Grace.