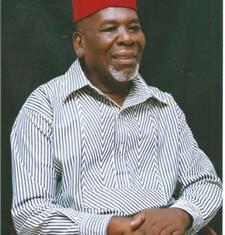 PROFESSOR ONWUKWE ALAEZI
Ph.D (London), finsm,fism, fiia, fipem, mcon
PROFESSOR ONWUKWE ALAEZI
Prof. Onwukwe Alaezi is from Akaologho, Okoko Item in Bende Local Government Area of Abia State. Born in 1942, Prof. Alaezi is a distinguished academic, philanthropist and community leader.

Former Director; Center for Vocational and Entrepreneurial Studies, Federal University of Technology Owerri (FUTO), Alaezi is also the current President – General of Nigerian Hebrew Renaisance (NHR) and a visiting Research Fellow of Eri Ben Gad International Foundation; Florida U.S.A; as well as member of the Board of Governors of the US based Foundation.

The Akajimmuta (one that pilots education) of Item community had at one time or the other held many academic leadership positions – Head of Department, Dean; Director, Secretary and Chairman of Committees at various Universities in the country, including but not limited to University of Jos (UNIJOS), Abia State University (ABSU), Uturu, National Open University of Nigeria (NOUN) Abuja/Lagos.

An excellent scholar, Professor Onwukwe Alaezi was the first Nigerian ever to win the Overseas Research Students (ORS) Award of the Vice Chancellors of British Universities for the completion of his Ph.D work at the University of London (1981). He holds several national and international awards such as Excellence in Education Award of the Lincoln University, California, U.S.A.; Academic Nobel International Award of the National Institute of Industrial Administration, Rotary International District 9140 International Service Award, Item Vocational Service Award.

A fellow of the Institute of Sales Management of Nigeria (FISM), Institute of Industrial Administration (FIIA) and Institute of Petroleum and Energy Marketers (FIPEM) to mention but a few, Professor Alaezi has to his credit, 95 published works – books, articles in national and international journals, and over 35 papers presented at various conferences and symposia in Nigeria and abroad.

Prof. Alaezi is married to Deaconess (Lolo) Nnennaya O. Alaezi; the Proprietress of NOA Private School. They are blessed with five children.

Prof. Alaezi is a member of the Board of Trustees of Cosmos Ndukwe Foundation and the Chairman of Academic Advisory Committee.